'Can I have the 'skin-color'?'
Multilingual children may experience a reduced sense of belonging if the linguistic landscape of their school is not representative of their own linguistic and cultural resources. The linguistic landscape of a school refers to all the visible written signs and objects found inside a school, such as in the hallways and in classrooms. By enriching the linguistic landscape, the school could be a more inclusive place for multilingual children.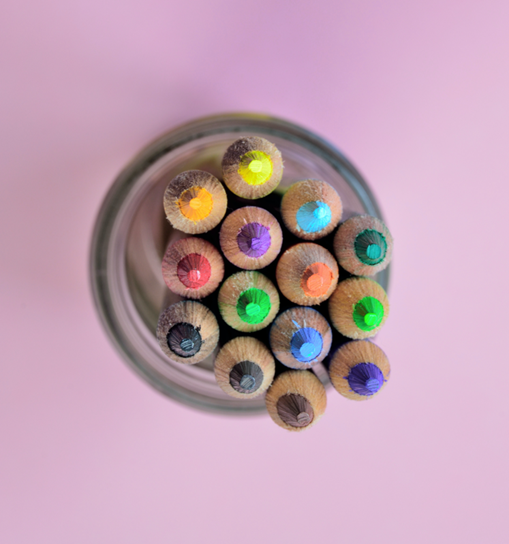 23 years ago, I was in group 2 of a Dutch elementary school. Together with a group of children I was coloring. 'Can I have the skin-color?' I asked a classmate. The classmate gave me the beige pencil.
Although my primary school had lots of children with diverse cultural backgrounds enrolled, it was natural for us children to give the beige pencil when a skin-colored pencil was asked for. Beige was after all the skin-color your saw in books and pictures around the school.
Sense of belonging
Children with a bi-cultural background can have the feeling of living in two worlds: the home culture, and the Dutch culture. Being part of two cultures can sometimes mean that you are able to speak two, or even three languages.
The languages you speak are part of your identity. You might like to read books in Dutch, but prefer watching your favorite Netflix show in Turkish. When one of the languages you speak or the cultural references you identify yourself with are excluded at school, you might feel that a part of your identity is not welcome there. So, you might feel you don't belong there fully. A rich linguistic landscape at school offers multilingual children the opportunity to show and explore their whole identity.
A rich linguistic landscape
Recently I walked around a school that was part of an asylum center. At the entrance, the word 'welcome' was written in different languages. Also, in the hallway I found a world map full of little dots. The dots pointed out where all the children came from. Lastly, I saw a door full of stories the children had written. These stories were memories they had of their countries of origin.
Within the asylum center school, lots of different cultures and languages were visible around the hallways and classrooms. The rich linguistic landscape that was visible there could serve as a good example for Dutch primary schools with a high percentage of multilingual children. By offering a rich linguistic landscape, schools can help children explore and show their true identity.
-Cudi Gölpinar | Intern, subproject 'School'.
Currently, this blog is only available in English and Dutch. To read it in another language we recommend using the translation tool DeepL.